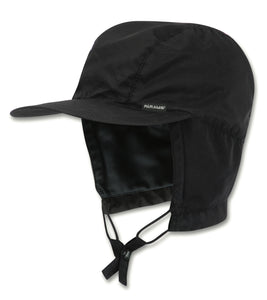 Paramo
Paramo Waterproof Cap
Regular price
£40.00
£0.00
Unit price
per
Tax included.
The Páramo Waterproof Cap is the ultimate in 4-season headwear protection. Flexibility in design means that it can be worn in conjunction with any of our Jacket or Smock hoods to increase insulation and to ensure vision is maintained. Alternatively it can be used in warmer climates to protect against the sun. Keeps your head warm and cool at the same time!
Nikwax Analogy Waterproof fabric is more than just breathable, it is directional.
This means it is capable of moving liquid water away from your body and not just water vapour.
It is essential to avoid a build-up of water in your clothing system when you are working hard, as too much retained moisture will lead to your body rapidly chilling when you stop and rest.
In conventional clothing systems, approximately 20% of sweat production is dealt with effectively, leaving the remaining 80% trapped inside.
Nikwax Analogy garments are unique, in that they pump out this 80% of liquid water and allow it to drain away; you are left feeling dry and comfortable.
To understand the difference between directionality and breathability, you can read more here.
---
Share this Product
---